You wake up in the morning, tired from a long night's sleep. Walking to the coffee pot, you mix up your favorite grounds and hit brew, and the machine lets out a sound you never heard before.
It's going to be a rough day. 
Wouldn't it be nice to better understand how that coffee pot worked so you could quickly fix it?  Similarly, wouldn't you like to know the inner workings of how software companies operate? 
With nearly 20 years in digital business (and most of those years at software companies), I've always had an insatiable curiosity for how things work. I've worked in operations, product management, and professional services – and I plan to use my experience to help unpack what types of operations help run software companies and how you can consider utilizing them.
What are business operations?
Dictionary.com defines business as " a person, partnership, or corporation engaged in commerce, manufacturing, or a service; profit-seeking enterprise or concern." It also defines operations as "an act or instance, process, or manner of functioning or operating."  
If we combine these two, we could say business operations are a manner of operating a profit-seeking company. In layman's terms: it's how things happen inside a company to deliver a product and make money.
Business operations for software companies
Now let's dive into a specific niche: software companies. So taking that same definition, we'll look at how things happen inside software companies to deliver a software product and make money. It may sound like a minor nuance, but details matter.
My career has been spent delivering digital goods. This is very different from other industries. Software companies do not need to worry about physical inventory and supply chain logistics for their shipped goods. They, in turn, do need to think about things like active users, throughput, conversion rates, and subscription revenue.
As you dive deeper into software business operations, there are many niches or groupings we can consider. The most common way these groupings are spoken of is first by department, and then by specialization.  
Department groupings look at operations for the key departments that usually make up a software company, most commonly:
People, in some companies, may be called human resources (HR)
Marketing
Sales
Product
There are many nuances here, so let's note a few things. My belief is that we value people over all. We deserve not to be buried deep in an organizational structure, so people ops is its own grouping.
Additionally, there are many nuances and sub-teams like dev ops, customer support, and professional services. I believe each of those can be rolled up into one of the four departments listed above. Let's take a deeper look at what each of these is.
FOCUS

KEY PRIORITIES

UNIQUENESS IN SOFTWARE

People Operations

A focus on the people of the company.

Employee satisfaction (eNPS)

Employee attraction, development, and retention 

Commonly remote & in-person work environments

Commonly multi-location (global included) employees

Equity logistics

Marketing Operations

A focus on the marketing of the company offering.

Digital attribution emphasis or exclusivity
Digital tech stack emphasis

Sales Operations

A focus on the sales motions to sell the company products.

Digital products
Criticalness of demos
Remote selling

Product Operations

A focus on the new product development motions to create and enhance the company products.

New Product ARR
ARR / Person
Throughput

Digital products
New product development (NPD) efficiency focus
People operations
People operations (POPs) focuses on the people inside the software company making software products. This team usually prioritizes keeping current employees happy, measured by employee satisfaction or eNPS. Keeping current employees happy ensures better performance and, in turn, better products, while also helping with employee retention.
Another key element for this team is employee attraction, development, and retention. This means the ability of people ops to help ensure a company can recruit and hire new employees and guarantee that as the software company grows, it can keep team members joining at an equal rate of growth. Additionally, people ops can help develop and retain current team members to keep valuable knowledge and predictability in the business.
– Kristina Creed, Director People Ops at G2
Software companies, being creators of digital products, have the unique ability to employ team members remotely. People ops needs to be able to handle remote or in-person employees located anywhere in the world and help their company ensure they can do this. Also, stock options are a common incentive for new hires to join companies, especially early-stage companies, so being versed in stock equity logistics is important.  
Marketing operations
Marketing operations (MOPs) focuses on supporting marketers in various functions such as demand generation (DG) and partner, customer, and product marketing.  The support for these functions is in service of the marketing of software products the software company creates.
The help provided can include goal setting, spending and conversion optimization, and helping to align with their sales counterparts. This team usually has a key priority to help drive sales (revenue) for the company, measured by marketing qualified leads (MQLs).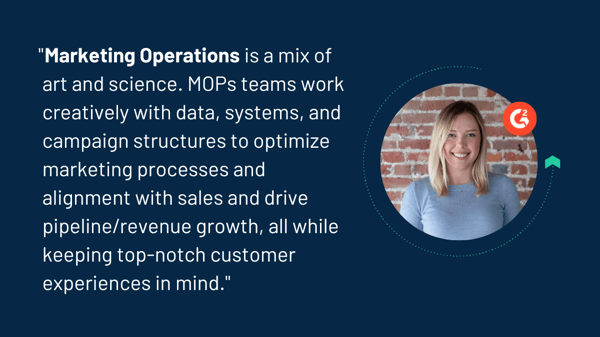 – Sara Koppes, Director of Marketing Operations and Analytics at G2
As software products are digital products, sales happen digitally, so there is a unique emphasis on a digital technology stack for tools and the ability to track attribution digitally. Teams will usually closely monitor how well different means of marketing are leading to sales, measured by conversion rates.
Sales operations
Sales operations (SOPs) focuses on the sales motions of the software products. The sales team ensures a company is profitable by selling the digital products it creates, measured by annual recurring revenue (ARR) and net revenue retention (NRR). 
The former deals with how much revenue a software company can expect to recur on an annual basis. The latter deals with if customers who are renewing year-over-year are spending more or less money with the company.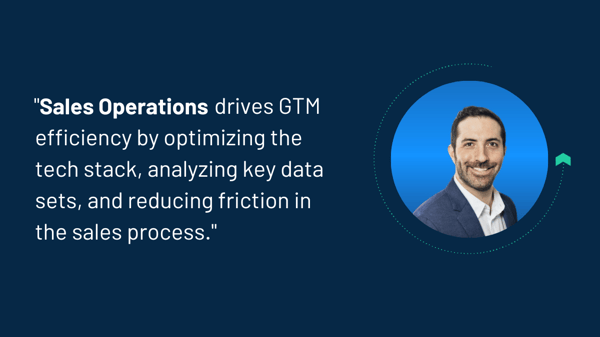 – Brad Rosen, President and Head of Revenue Operations at Sales Assembly
Software products are digital products, and so sales in software companies rely heavily on digital demos and the ability to engage and sell remotely. Sales ops will support with a close review of the activities that are involved with selling.
Product operations
Product operations (also called POPs) focuses on the new product development (NPD) processes that are running to help create new software products or maintain existing products. Products are created to be sold and used, so product teams will commonly measure NPD ARR, looking at what portion of sales is coming from new products.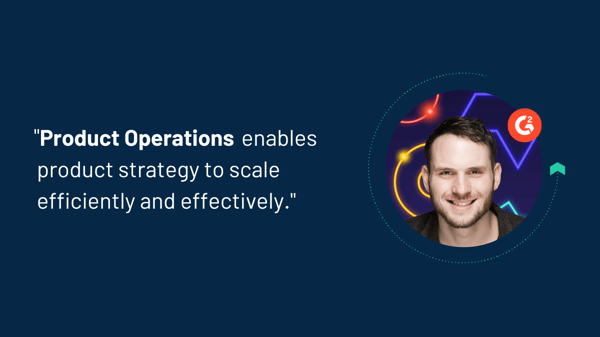 – Kevin Long, Sr. Director Product R&D Ops at G2

Unique to the software industry, products are digital and created by teams of product managers, designers, and engineers. A common metric used is called throughput, which will look at how much work a team can produce over a period of time.
Grouping by specialization
You will see that in some companies, operations teams are not named after the department but, instead, after areas of deep skill specialization. Some common ones are revenue operations (rev ops), development operations (dev ops), and data operations (data ops). 
Usually, you will see these when a company is very large and dives down into further and further areas of specialization in their operations teams or where a company has high strength in one area and invests deeply there.
How to identify business operations needs
How do you know what you need? And what do you do to fill the need?  For the "how," we can look at two primary indicators: performance and efficiency.
Performance
Look at your company metrics. Dig into the key metrics for each of the different focus areas and identify where you have performance that is off track. Do not look for minor one-time occurrences but trends.
Where are you consistently missing targets month-over-month or quarter-over-quarter? This is likely an area where a focus on operations will help.  
For example, if you tracked your employee satisfaction with eNPS and you were consistently lower than average for your industry for three or more quarters, looking at the table above, you would want to look into people operations.
Efficiency
Look at your company metrics again. This time dig into where your investment may not be right, and you could benefit from efficiency. An example may be that you are producing the MQLs that you want, but your conversion rate is very low, so you are having to spend more time and money than you want to achieve your MQL targets.
This may mean you could invest in marketing operations to gain conversion rate efficiency.
How to improve your software business operations with specialists
Once you identify that you have a need, you can dig in on what you should do to fill that need. When it comes to operations, there are several ways you can invest.
| | | |
| --- | --- | --- |
| Investment type | Spend type | When to consider |
| Third-party | One-time | You have a problem, but you are not sure how big it is and want help before investing further. |
| Tool | One-time / Recurring | You have a specific problem that software can help solve. Browse software on G2. |
| Hire | Recurring | You have a series of problems that will take some time to find solutions, and you want someone to be able to stay close to the problem and own it. |
Let's get to work!
I hope you feel more informed on the topic of software company business operations.  Maybe even a little inspired to go out and dig into your company metrics and see if you have an area you can focus on to help you achieve your goals.  
Wondering how you can improve your overall operations? Learn more about operations management and how to optimize every element of your business.